2022tue22nov17:3019:00Event OverAdvanced Certified Scrum Product Owner (A-CSPO®)17:30 - 19:00(GMT+02:00) View in my time Trainer: Volodymyr Trush (Vlad) Event Type :Agile,Scrum
Event Details
---
Through the A-CSPO, you will learn to:
Manage multiple business initiatives from competing stakeholders.
Clearly order and express Product Backlog items.
Define a clear product vision that ensures your product remains focused on the features your customers and end-users will actually use.
Communicate effectively with various stakeholder groups to achieve alignment.
Identify the crucial opportunities and avoid wasting time.
Define and validate business value.
Increase your credibility as a product expert and become recognized as a person who delivers real business results.
---
We will explore the following topics:
1) Examining Product Owner Accountabilities and Responsibilities:
– analyze the importance of Product Ownership.
– reflect on the mindset and actions of a successful Product Owner.
– discuss at least three possible impacts to their stakeholder relationships and/or product that could result if their Scrum Team adopted the latest definition of Scrum.
2) Working with Stakeholders:
– demonstrate at least three techniques to interact with stakeholders over multiple Sprints.
– describe two examples when the Product Owner should not act as the facilitator for the stakeholders.
– demonstrate at least three facilitative listening techniques.
– demonstrate the use of at least two alternatives to open discussion.
– describe at least three ways to facilitate a final decision with stakeholders.
3) Working with Developers:
– explain why the Product Owner should be cautious about accumulating technical debt.
– list at least three development practices that could help their Scrum Team deliver a high-quality Increment and reduce technical debt each Sprint.
4) Product Ownership with Multiple Teams:
– recognize at least two approaches to scaling Scrum.
– identify at least two techniques for visualizing, managing, or reducing dependencies.
– describe at least three benefits and drawbacks of feature teams and component teams.
5) Developing Practical Product Strategies:
– discuss a real-world example of how product strategy is operationalized and evolves over time in an agile organization.
– practice at least two approaches to identify the purpose or define strategy.
6) Advanced Product Planning and Forecasting:
– create a product plan or forecast with stakeholders.
– practice at least one technique to visualize and communicate product strategy, product ideas, features, and/or assumptions.
7) Empathizing with Customers and Users:
– use one technique to connect developers directly to customers and users.
– practice at least two techniques of product discovery.
8) Advanced Product Assumption Validation:
– list two cognitive biases that may impact the Product Owner's capability to effectively deliver business value.
– appraise how effectively a Sprint Review was used to inspect and adapt based on the Sprint Goal and Increment(s) that were completed during the Sprint.
– compare at least two approaches to validating assumptions.
– experiment with at least one approach to incorporate validating assumptions into the Scrum framework.
– develop at least two hypotheses for a target customer.
– create a plan to test at least one hypothesis.
9) Product Backlog Management:
– use at least two techniques to model value and at least two techniques to measure value.
– apply at least three techniques to order a Product Backlog to support a Product Goal.
– describe how the Product Owner can ensure that enough Product Backlog items are "ready" for the upcoming Sprint.
– integrate feedback from at least three sources to generate and refine Product Backlog items.
– experiment with at least two ways to improve their Product Backlog refinement.
Target audience
The course is designed for people who have already completed the Certified Scrum Product Owner (CSPO) course and want to deepen their knowledge in Product Ownership.
About the course
Duration – visit at least 11 sessions (90min each) within 1 year at your own pace on Tuesdays at 18:30 (CET) and/or Saturdays at 16:30 (CET).
Certification – Your coach will verify your knowledge during sessions and certify you as an Advanced Certified Scrum Product Owner (A-CSPO®).
Price – 699 Eur + VAT per FULL course + Certification included.
Location – online.
Tickets
Tickets are not available for sale any more for this event!
Time

(Tuesday) 17:30 - 19:00(GMT+02:00) View in my time
Trainer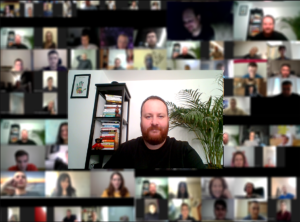 Volodymyr Trush (Vlad)Top-1 Executive Coach in Europe. (During a year coached more than 350 business owners). One of the first certified Team Coaches in the World by Scrum Alliance. (Certified Team Coach (CTC)), Certified Agile Coach® (CAC®). Part of Forbes Coaches Council. Coached teams and executives in organizations which are in TOP 10 largest direct sales companies in the world, turn over from 1,8 billions. Clients - organizations from Fortune 500. Among few coaches in the world who can coach and certify Advance level Product Owners and Scrum Masters. Successfully launched and sold more than 5 International products. Coached more than 25 000 people. Exclusive partner of many top MBA's, Segment: Business Coaching, Life Coaching and Agile. Founder of Team Transformation Framework. Member of International Coach Federation Luxembourg. Ex PO for Cirrus Insight which is considered as Top Sales App in USA. Ex Co-Founder Prengi, largest digital transformation software for Retail, FMCG, Construction industries. More than 3 years coached executives, teams while working on product in TOP 27 most visited websites in the world. Ex-partner of Superheroes Academy. Top Agile Certification company in Canada.