2022sat26nov15:4517:15Certified Scrum Product Owner® (CSPO)15:45 - 17:15(GMT+02:00) View in my time Trainer: Volodymyr Trush (Vlad) Event Type :Agile,Scrum
Event Details
---
If you plan to:
Effectively create and get your product to market.
Explore more Product Owner role and accountability.
Effectively work in teams with hypotheses and backlogs, plan sprints and releases.
Test your product management level, improve it and get international certification
Introduce Agile/Scrum in your teams and organization
Get an opportunity to earn 95.000 Euro yearly as Certified Product Owner
then this course by Scrum Alliance® Team Coach is definitely for you!
Who should join?
Product Owners
Head of products, Product managers
Product and Development teams
Startups or those who plan to create own bussines/product
What we will learn and try on practice:
1) Create products with max value for the end user:
– You will learn how to create Vision and Effective Strategy of product Release.
– Will learn what business value is and how to measure it.
2) Introduce Scrum to your Team or Organization:
– Learn how to introduce Scrum, what benefits can it bring.
– How to plan in iterations and deliver incrementally.
– Create and estimate tasks and plan releases.
3) Work with Hypotheses:
Everything what has to be true for the idea to work is Hypothesis.
– Learn how to create and test your Hypotheses.
– Learn what is Hypotheses driven development.
– Discover how to test your Hypotheses in the least expensive and most fast ways.
4) Effectively communicate with your Customers:
– Will build communication models.
– Discover effective communication techniques and tools.
5) Work with Clients, Customers, Users, Stakeholders:
– Learn how to segment your Product users and work with Stakeholders.
– Learn what Persona is and how to introduce this concept to your product development framework.
– Learn how to run business having conflicting requirements from different stakeholder sides.
About the course
Duration – Set of 11 online sessions 90 min each in a small group, within 1 year at your own pace on Saturdays at 14:45 (GMT+2:00).
Certification – Your coach will verify your knowledge during sessions and certify you as a Certified Scrum Product Owner (CSPO®).
Price – 699 Eur + VAT per FULL course + Certification included.
Location – LIVE ONLINE sessions with the coach.
Tickets
Tickets are not available for sale any more for this event!
Time

(Saturday) 15:45 - 17:15(GMT+02:00) View in my time
Trainer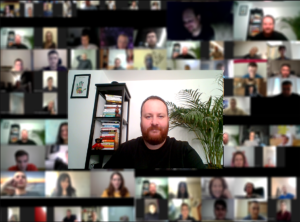 Volodymyr Trush (Vlad)Top-1 Executive Coach in Europe. (During a year coached more than 350 business owners). One of the first certified Team Coaches in the World by Scrum Alliance. (Certified Team Coach (CTC)), Certified Agile Coach® (CAC®). Part of Forbes Coaches Council. Coached teams and executives in organizations which are in TOP 10 largest direct sales companies in the world, turn over from 1,8 billions. Clients - organizations from Fortune 500. Among few coaches in the world who can coach and certify Advance level Product Owners and Scrum Masters. Successfully launched and sold more than 5 International products. Coached more than 25 000 people. Exclusive partner of many top MBA's, Segment: Business Coaching, Life Coaching and Agile. Founder of Team Transformation Framework. Member of International Coach Federation Luxembourg. Ex PO for Cirrus Insight which is considered as Top Sales App in USA. Ex Co-Founder Prengi, largest digital transformation software for Retail, FMCG, Construction industries. More than 3 years coached executives, teams while working on product in TOP 27 most visited websites in the world. Ex-partner of Superheroes Academy. Top Agile Certification company in Canada.